Introducing Walden Hollow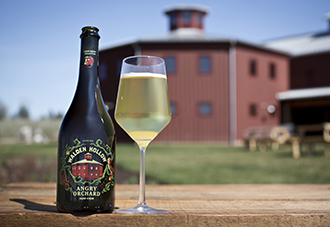 I'm pleased to finally be able to announce the release of our newest cider: Walden Hollow. This cider is an homage to our new home in the Hudson Valley, where we opened our Innovation Cider House on our own orchard this past fall.
Walden Hollow is our first cider made exclusively with apple varieties from New York State, including apples from last year's harvest at our 60-acre orchard in Walden, NY, and heirloom apples from other local orchards here in the Hudson Valley.
The mild tannins and dryness of the cider capture the diversity, complexity and depth of character from the blend of New York State apples – which includes Golden Russet, Newtown Pippin, and Northern Spy. These heirloom varieties have deep ties to the Empire State, and have been used in cider making for hundreds of years.
Walden Hollow will be released annually in the spring, and each batch is going to be different from the last as it will be made using a blend of New York apple varieties that will change from year to year based on the previous year's harvest.
It's cider like Walden Hollow that inspires us to continue to drive innovation and reimagine what American cider can be.
Walden Hollow will be available nationwide starting this month in 750 mL bottles as part of our Cider House Collection. Check out our Cider Finder to see where it is available near you.