Visit the Treehouse at the Orchard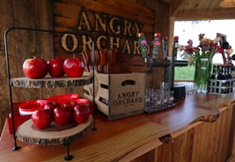 As you might have seen on Animal Planet, we recently partnered with Pete Nelson and the Treehouse Masters to build a Treehouse right here at our Orchard in Walden, NY.
Our team was drawn to Pete's creativity and energy when it comes to building inventive, unique treehouses. It's very similar to the cider making process – we both get to express our creativity through our craft – so it was a natural fit to work together.
At its core, the Innovation Cider House is our playground for experimentation, innovation and pushing the boundaries of what cider can be for US drinkers. We want drinkers to visit and learn about the history of cider, how it's made, and be able to explore new/experimental cider styles. The new Treehouse is a great place for drinkers to do just that.
The Treehouse overlooks our Orchard, offering visitors an entirely different perspective of our ciders and the Hudson Valley landscape (not to mention a gorgeous view).
We're excited to announce that we are now offering tours of the Treehouse! Want to come check it out? We offer two types of tours every Saturday and Sunday:
Guided Tour: We offer a guided Treehouse tour every Saturday and Sunday at 12:00, 2:00, and 4:00. You must sign up in the Innovation Cider House to take this tour, which often fills up quickly. We also offer a guided weekday tour Wednesday - Friday at 4:00.

Walk-Up Tour: The Treehouse will be open every Saturday and Sunday from 11AM - 5PM (with the exception being during the guided tour times) for walk-up visitors. You do not need to sign up for this tour, but there may be a little bit of a wait.
Other Treehouse Information:
- The tree house will indeed be used for cider release parties but unfortunately is not available for private parties.
- If you are on a wine trail or are from corporate group, please contact with us in advance for your visit.
- We will not be able to accommodate any "day of" tours without previous notice (this does not guarantee tours will be available).
- You must always be accompanied by an Angry Orchard staff member while visiting the tree house.
- Each visitor must be 21 years of age or older.
- No children are permitted on the tree house grounds.
If you have any additional questions, please feel free to e-mail us at tourrequests@AngryOrchard.com.