Understood in Motion 01: Our First American Collaboration Cider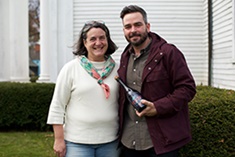 We're excited to announce our first American collaboration – a partnership with
Eden Specialty Ciders
, a cidery based in Vermont that specializes in ice ciders, which are sweet and apple-forward, and made from Vermont heirloom apples.
Additional Understood in Motion ciders, named for the motion of apple harvest and the cider making process, are already in the works for next year.
The decision to make this cider came about when Eden's Eleanor Leger and I were hanging out in New York City after a cider event, talking about cider and apples, and how there just aren't a lot of collaborations in the cider industry. We decided it'd be interesting to bring our techniques and ingredients together.
One of our main goals is to raise awareness of the cider industry in the Unites States, and this is a goal our friends at Eden share. Their cider makers make some of the world's best ice ciders and I've always admired their approach. With this collaboration, we could combine our techniques to create something completely new and, in the process, help push American cider forward.
Together, we chose specific apples varieties from Vermont. Eden pressed the apples and fermented the juice at their cidery and then sent it down to our Innovation Cider House, where the cider was fermented slowly to dryness and spent six months aging and some of it in tanks and some in used Calvados barrels.
At that point, Eleanor came to the Innovation Cider House for final blending where we worked to blend in different amounts of a three-year-old ice cider from Eden to achieve a perfectly balanced finished cider.
The result was Understood in Motion 01 - a semi-dry cider with balanced acidity low in tannins. It has an overripe, baked apple flavor with notes of honey and a light floral aroma. This cider goes well with savory main dishes like roasted rosemary chicken or Thanksgiving turkey, and is delicious with spicy, gamey meats.
The cider was debuted at a James Beard House Dinner in New York City on November 4th, and will be available to purchase only at the Angry Orchard Innovation Cider House in Walden, NY for $25 beginning on National Cider Day, November 18th.