Experience the cider making process first hand.
See where our cider makers craft innovative new ciders - many of which are available only at our cidery - and sample three delicious Angry Orchard varieties in our tasting room with your complimentary flight.
There is no admission fee to visit the Innovation Cider House. You must be 21+ with a valid ID to sample.
---
TOUR, TASTING & GIFT SHOP HOURS
WEDNESDAY- THURSDAY: 11AM - 6PM
FRIDAY: 11AM - 8PM
SATURDAY, and SUNDAY: 11AM - 6PM
HOLIDAY HOURS: We will be closed for Thanksgiving on Thursday 11/23 and will re-open Friday at 11AM.
WE'RE OPEN YEAR ROUND!
Please note: We are currently in peak season at the cidery and are experiencing high visitor volume on weekends between 1pm -3pm. We encourage you to schedule your trip accordingly, especially if you are traveling far distances to visit us. There may be instances where our parking lots are full and cannot accept any additional vehicles. We do not encourage parking at any local business, residences, or roads unless otherwise designated by Angry Orchard. Vehicles that are towed or damaged are the responsibility of the owner.
No outside food or beverage is allowed at the Orchard. We reserve the right to check oversized bags.
TREEHOUSE TOURS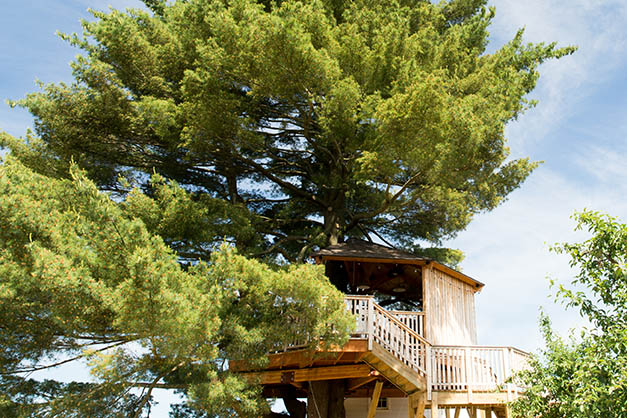 Wednesday & Thursday: 4pm
Friday: 12pm and 4pm
Saturday & Sunday: 12pm, 2pm, 4pm
CLOSING FOR THE SEASON! The Treehouse will be closing for the season after Sunday, 11/26. We will reopen in Spring 2018.
Join us for for a VIP Treehouse Tasting Tour up in the trees! Tours include a guided walk-through of the orchard, a cider tasting up in the Treehouse, and a take-home souvenir glass. Tours are discounted for $10 on Wednesday and Thursday, and $20 on Friday through Sunday.
We do not accept advance reservations for tours, so please sign up in person at the Innovation Cider House. Tours are on a first-come basis and are weather-permitting. PLEASE NOTE: Treehouse Tours are 21+ only; no children please.
On weekends, the Treehouse is open for walk-up, self-guided tours in between our scheduled VIP tours on Saturdays and Sundays. Walk up and check it out yourself! PLEASE NOTE: The Treehouse is not open for walk-ups Wednesday - Friday.
BARREL ROOM TOURS
Wednesday - Friday: 2PM
Saturday - Sunday: 1PM & 3PM
Join our guided Barrel Room Tour for a behind-the-scenes exploration of how cider is made, a tour around the cider cellar and an in-depth tasting of our limited release ciders. Tours are $10. Sign up for your Barrel Room Tour at the Innovation Cider House.
CIDER GARDEN - NOW OPEN!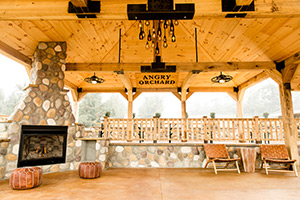 Saturday - Sunday: 12PM - 5PM
Opened in September 2017, our Cider Garden is a stunning outdoor space for relaxing by the fireplace and sampling a variety of ciders available from the bar within our Stone Barn. Kick back and relax - no tickets required.
---
INCLEMENT WEATHER, EMERGENCY SITUATIONS
Decisions concerning inclement weather closures are always made with the safety of our guests and our team in mind. We urge you to call the tour center at 845-713-5180 before making a trip to the Cidery in poor weather. We will also update our Facebook page of the closing. Again, there is no substitute for judgment. If you have concerns about the safety of your travel please come visit us on our next scheduled day of operation.
---
Want to take home some delicious hard cider?
You can purchase growlers and bottles of our specialty ciders, including ciders from the Angry Orchard Cider House Collection and other styles available exclusively at the Innovation Cider House. Available cider styles will vary depending on what our cider makers are currently working on.

CRISP APPLE
($18.00)
Our flagship style, Crisp Apple is made from traditional cider apples for a blend of sweetness and bright acidity, just like biting into a fresh apple. ABV: 5%
KNOTTY PEAR
($19.00)
Knotty Pear's main ingredient is juice from American apples, and also features pear juice and cardamom. White oak aging gives it a pleasantly dry finish. ABV: 6.5%
THE OLD FASHIONED
($19.00)
The Old Fashioned is made with a blend of American apples and is aged on oak with dried tart cherries. ABV: 6.5%
ELDERFLOWER
($19.00)
Inspired by the European tradition of elderflower cordials which dates back to ancient Roman times, Elderflower has a bright, fruity flavor that balances the flower's subtle floral notes and tropical fruitiness. ABV: 5%
SPRING FARM
($18.00)
Our Spring Farm cider is made exclusively with culinary apples from our orchard here in New York. Natural fruit sugars balance the earthiness of this farm style cider.
ABV: 7.7%

THE VALLEY FLOR - OVAL NOUVEAU
($18.00)
Natively fermented in oak and matured in the same manner as some fine champagnes and wines, Oval Nouveau is a dry and unfiltered cider made from bittersweet and sharp apples that showcase the terroir of our Walden Orchard. ABV: 6.2%
NEWTOWN PIPPIN
($16.00)
Unfiltered and dry, this single variety heirloom cider showcases the complexity of the once abundant and now rare Newtown Pippin apple. ($16)
ABV: 7.7%
UNDERSTOOD IN MOTION: 01
($25.00)
Made from a carefully selected blend of heirloom apples grown in Vermont, including Ananas Reinette & D'Arcy, this cider was fermented slowly to dryness and then spent several months in used calvados barrels. Three year old ice cider, made by our friends at Eden, was blended in just before bottling. ABV: 8.0%
UNDERSTOOD IN MOTION: 02 ($25.00)
East Coast meets west coast with Understood in Motion 02, a collaboration between Angry Orchard and E.Z. Orchards Cidre. The cider is homage to style, tradition, and a shared respect for the integrity of the fruit. Apples used are Bittersweet Muscadet de Lense and Marie Menard from Oregon, and heirloom, acid-forward Gold Rush and Northern Spy from New York. The fruit was naturally fermented in a process that requires very little intervention but lots of careful attention.
ABV: 7.2%
WOODEN SLEEPER
($22.00)
When apples start to come off the trees, and summer turns to fall, we take this as our cue to lay down a special fermentation made of bittersweet and sharp apples for a long rest in Bourbon barrels. A year later, we wake this warming cider up and blend it to help you through the long winter ahead! ABV: 9.5%
PLEASE NOTE: Cider purchased at the Innovation Cider House is intended to be enjoyed at home and cannot be consumed on-site. Growlers are available on a first come, first serve basis and we may run out of popular styles.
---
DISCOVER THE HUDSON VALLEY
Want to make a day of it? There are a lot of great cideries, wineries, breweries, distilleries, and meaderies in the region. Click here for more information on what is nearby.